Taj Mahal Tour From Delhi By Mercedes/Audi Car – Travel in Business Class
Enjoy the beautiful monuments of the Agra city from Delhi city by luxury car.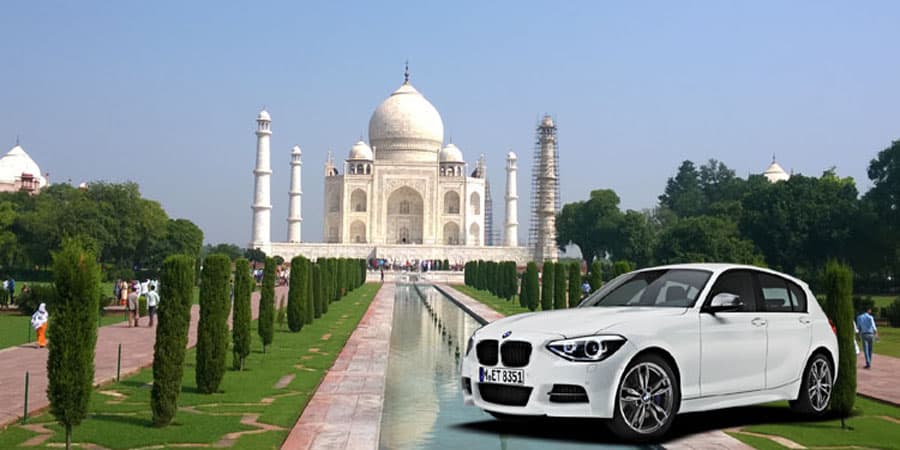 Book Now
From
USD 80*
per person
1 Day
Monuments Covered :
Taj Mahal, Agra Fort & sunset view of Taj Mahal – Mehtabh Bagh
Enjoy Private Agra Tour From Delhi By Mercedes Car – Travel In Business Class, visit Mumtaz Mahal and Agra Fort and Mehtab Bagh (Optional) in Super Luxury Cars like Mercedes, BMW, and Luxury Coaches with ultimate comfort and luxury. This package includes everything. Enjoy your luxury trip from Delhi in a luxury AC Car and return back on same day.
Detailed Itinerary
06:30 A.M -(Pick Up From Hotel / Airport in Delhi NCR / Gurgaon)
At 6:30 A.M Our Driver will come to pick you up from you hotel and drive to Agra. Enjoy 3 hours ride to Agra. Pickup time is flexible and it can be shift as per your preference.
Note: For Sunrise visit recommended at 03:00 AM.
9:30 A.M -(Meet Your Tour Guide on Arrival – Proceed to Taj Mahal)
At 9:30 A.M You will reach Agra and our tour guide will welcome you and Proceed to Mumtaz Mahal. Mumtaz Mahal – One of the Seven Wonders of the World surely the most extravagant expression of love ever created. 20,000 men labored for over 17 years to build this memorial to Shah Jahan's beloved wife. The expected length of visit is 1.5 Hours.
Note: Taj Mahal remain closed on Friday.
11:30 A.M -(After Taj Mahal – Proceed to Agra Fort)
At 11:30 A.M Visit Agra Fort Built by Emperor Akbar in 1566, the rusty and majestic red-sandstone fort of Agra stands on the banks of the river Yamuna. It comprises many fairy-tale palaces, such as the Jahangir Palace and the Khas Mahal, built by Shah Jahan; audience halls, such as the Diwan-i-Khas; and two very beautiful mosques.
1:00 P.M -(Lunch ITC Mughal Restaurant)
At 1:00 P.M Enjoy Lunch in ITC Mughal Restaurant. Explore one of the finest flavors of Agra for around an hour.
2:00 P.M -(Visit Mehtab Bagh Sunset Point – Back view of Taj Mahal)
At 2:00 P.M Visit Mehtab Bagh Sunset Point – Back view of Taj Mahal. This is an optional site to visit, if you are in hurry you can skip it. Exploring the back side of a Taj Mahal. Here you will see the magnificent reflection of Taj Mahal over the river Yamuna during the time of sunset.
3:00 P.M -(Drive Back to Delhi)
At 3:00 P.M After exploring all day tour our driver will drive you back to Delhi through Yamuna Expressway Highway with sweet memories of Agra.
6:00 P.M -(Departure at Airport / Drop to Hotel)
At 6:00 P.M You will reached Delhi and the driver will transfer you to Delhi Airport or at your desired Hotel.
Tour Cost
Details

Package Cost (in USD per person)

No. of Persons
1 Adult
2 Adults
3 Adults
4 Adults or More
Adult (Age: 9 – 99 yrs)
$ 640
$ 340
$ 240
$ 190
Child (Age: 01 – 8 yrs)
$ 200
$ 100
$ 90
$ 80
Tour Cost includes
Taj Mahal and Agra Fort entrance tickets.
Private Luxury Premium Car (Mercedes / BMW / Audi)
Sightseeing by car in the destination city.
Tour Guide Service.
Lunch at 5 Star ITC Mughal Hotel.
All taxes.
Tour Cost Doesn't includes
Any Tips / Gratuities to guide and driver.
Still Camera / Video Camera Fee.
Note: Taj Mahal Remain Closed on Friday